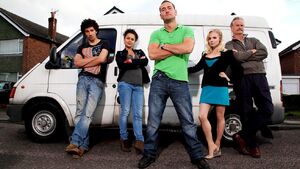 White Van Man is a British sitcom created and written by Adrian Poynton and first broadcast on BBC Three and BBC HD in 2011. It began screening in March 2011 becoming the highest rated launch ever for a sitcom on BBC Three.
Ad blocker interference detected!
Wikia is a free-to-use site that makes money from advertising. We have a modified experience for viewers using ad blockers

Wikia is not accessible if you've made further modifications. Remove the custom ad blocker rule(s) and the page will load as expected.