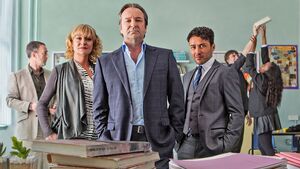 Waterloo Road is an award-winning British television drama series, first broadcast in the United Kingdom on BBC One on 9 March 2006. Set in a troubled comprehensive school in Rochdale, Greater Manchester, the series focuses on the lives of the schools teacher and students, and confronts social issues, including affairs, abortion, divorce, cancer and suicide.
Much of the series takes place at Waterloo Road Comprehensive, a fictional co-educational community school which takes students aged 11 to 18.
At the opening of the series the school was notorious for being "on the scrapheap" with poorly-behaved students and poor-quality teachers, although it later passed its inspection to remain open. In series 3 it suffered a major fire and in series 4 it was demolished by a digger driven by the character Ralph Mellor.