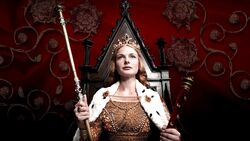 The White Queen is a British television drama series in ten parts, based on Philippa Gregory's historical novel series The Cousins' War (The White Queen, The Red Queen, and The Kingmaker's Daughter).[4] The first episode was premiered on BBC One on 16 June 2013 in the United Kingdom.
The series is set against the backdrop of the Wars of the Roses and presents the story of the women involved in the protracted conflict for the throne of England. It starts in 1464; the nation has been at war for nine years fighting over who is the rightful King of England, as two sides of the same family, the House of York and the House of Lancaster, are in violent conflict over the throne.
The story focuses on three women in their quest for power, as they manipulate events behind the scenes of history: Elizabeth Woodville, Margaret Beaufort, and Anne Neville.[8] Elizabeth Woodville is the central character in the novel The White Queen, while Margaret Beaufort and Anne Neville are the focus of the novels The Red Queen and The Kingmaker's Daughter, respectively. However, all three characters appear in all three novels that went to make up the television series.
Ad blocker interference detected!
Wikia is a free-to-use site that makes money from advertising. We have a modified experience for viewers using ad blockers

Wikia is not accessible if you've made further modifications. Remove the custom ad blocker rule(s) and the page will load as expected.