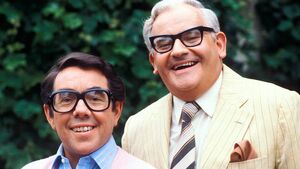 The Two Ronnies is a British sketch show that aired on BBC One from 1971 to 1987. It featured the double act of Ronnie Barker and Ronnie Corbett, the "Two Ronnies" of the title.
The show was based on the complementary personalities of Barker and Corbett, who never became an exclusive pairing, but continued to work independently in television outside of the editions of the Two Ronnies.
The show was produced annually between 1971 and 1987. It had many notable writers including Ray Alan, John Cleese, Barry Cryer, Spike Milligan, David Nobbs, David Renwick, John Sullivan, Michael Palin, Terry Jones. In addition, Barker used the pseudonym Gerald Wiley when writing sketches.