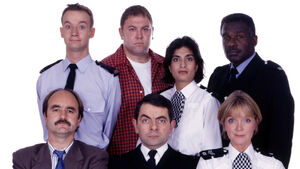 The Thin Blue Line is a British sitcom starring Rowan Atkinson set in a police station that ran for two series from 1995 to 1996. It was written by Ben Elton. The show aired on the BBC.
Various mishaps at a police station in an English Hamlet. The main character is the anachronistic, yet charming and funny Inspector Fowler. CID foil to Fowler, Inspector Grim is a bumbling, seething idiot!
Ad blocker interference detected!
Wikia is a free-to-use site that makes money from advertising. We have a modified experience for viewers using ad blockers

Wikia is not accessible if you've made further modifications. Remove the custom ad blocker rule(s) and the page will load as expected.