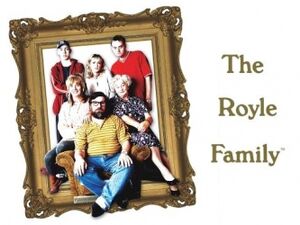 The Royle Family is is a popular, BAFTA award-winning television comedy drama produced by Granada Television for the BBC, which ran for three series between 1998 and 2000, and specials from 2006 onwards.[2] It is about the lives of a television-fixated Manchester family, the Royles.
The series features simple production values and a stereotypical portrayal of state benefit dependent family life at the turn of the millennium. It therefore has something in common with kitchen sink drama. The scripts contain often banal conversations.
Almost all of the episodes take place in the Royles' home; most centre on the telly-centric living room. The first series of the show was written by Caroline Aherne and Craig Cash, who also acted in it, along with poet and comedian Henry Normal.
Ad blocker interference detected!
Wikia is a free-to-use site that makes money from advertising. We have a modified experience for viewers using ad blockers

Wikia is not accessible if you've made further modifications. Remove the custom ad blocker rule(s) and the page will load as expected.