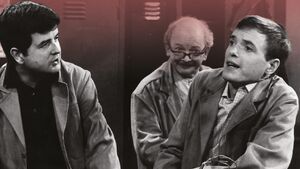 The Likely Lads is a British sitcom, on the BBC, created and written by Dick Clement and Ian La Frenais, and produced by Dick Clement. Twenty episodes were broadcast by the BBC, in three series, between 16 December 1964 and 23 July 1966. However, only eight of these shows have survived.
This show was followed by a popular sequel series, in colour, entitled Whatever Happened to the Likely Lads?, broadcast between 9 January 1973 and 24 December 1974. This was followed in 1976 by a spin-off feature film The Likely Lads.
Some episodes of both the original black and white series and the colour sequel were adapted for radio, with the original television cast.
Ad blocker interference detected!
Wikia is a free-to-use site that makes money from advertising. We have a modified experience for viewers using ad blockers

Wikia is not accessible if you've made further modifications. Remove the custom ad blocker rule(s) and the page will load as expected.