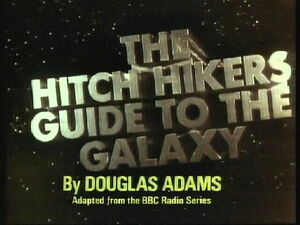 The Hitchhiker's Guide to the Galaxy is a BBC television adaptation of Douglas Adams's The Hitchhiker's Guide to the Galaxy broadcast in January and February 1981 on BBC Two. The adaptation follows the original radio series in 1978 and 1980, the first novel and double LP, in 1979, and the stage shows, in 1979 and 1980, making it the fifth iteration of the guide.
When the Earth is destroyed a Vogon Demolition Fleet to make way for a new hyperspace bypass, Arthur Dent joins his friend Ford Prefect (who turns out to be a researcher for an electronic reference guide called the Hitchhiker's Guide to the Galaxy) for a galactic voyage.
Ad blocker interference detected!
Wikia is a free-to-use site that makes money from advertising. We have a modified experience for viewers using ad blockers

Wikia is not accessible if you've made further modifications. Remove the custom ad blocker rule(s) and the page will load as expected.