| | |
| --- | --- |
| | The topic of this page has a wiki of its own: The Fall |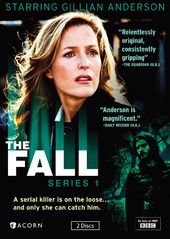 The Fall is an Irish-British crime drama television series created by Allan Cubitt and directed by Jakob Verbruggen. The Fall is produced by Artists Studio and premiered in Ireland on RTÉ One at 9.30pm on 12 May 2013, and in the UK on BBC Two at 9pm on 13 May 2013. BBC Two renewed the show for a second series on 27 May 2013.[1]
Series 2 begins in the Republic of Ireland on Sunday, 9 November on RTÉ One HD at 9.30pm and in the United Kingdom on BBC One Thursday, 13 November 2014.
The series is set in Northern Ireland and follows a Police Service of Northern Ireland (PSNI) investigation into a string of recent murders. When the PSNI is unable to close the case after 28 days, Detective Superintendent Stella Gibson, of the Metropolitan Police, is called in to review the case. Under her new leadership, the local detectives must track down and stop the serial killer, Paul Spector, who is attacking young, professional women in the city of Belfast.
Ad blocker interference detected!
Wikia is a free-to-use site that makes money from advertising. We have a modified experience for viewers using ad blockers

Wikia is not accessible if you've made further modifications. Remove the custom ad blocker rule(s) and the page will load as expected.