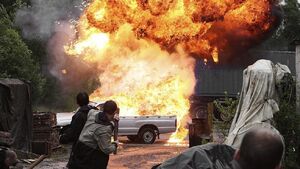 Survivors is a British science fiction television series produced by the BBC and shown on BBC One. It depicts the lives of a group of people who survived a virulent strain of heretofore unknown influenza which has wiped out most of the human race.
According to the producers, the series is not a remake of the original BBC television series Survivors (1975–1977), created by Terry Nation, but is loosely based on the novel of the same name that Nation wrote following the first season of the original series.
Ad blocker interference detected!
Wikia is a free-to-use site that makes money from advertising. We have a modified experience for viewers using ad blockers

Wikia is not accessible if you've made further modifications. Remove the custom ad blocker rule(s) and the page will load as expected.