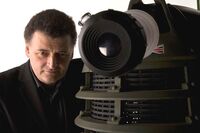 Steven Moffat (born 18 November 1961) is a Scottish television writer and producer. Moffat's first television work was the teen drama series Press Gang. He current is best known for working on BBC shows Sherlock and Doctor Who where is the head writer.
His first sitcom, Joking Apart, was inspired by the breakdown of his first marriage; conversely, his later sitcom Coupling was based upon the development of his relationship with television producer Sue Vertue. In between the two relationship-centred shows, he wrote Chalk, a sitcom set in a comprehensive school inspired by his own experience as an English teacher.
He is best known in the present day as the head writer of BBC's long running science fiction series Doctor Who. He co-created Sherlock, an adaptation of the Sherlock Holmes detective stories. Perhaps due to Steven being the head writer of Doctor who, many actors in Sherlock have appeared in Doctor Who.
He is known as "Trollfat" on the website "Tumblr" for his tendency to shock viewers during episodes of his shows.
External Links
Edit
Ad blocker interference detected!
Wikia is a free-to-use site that makes money from advertising. We have a modified experience for viewers using ad blockers

Wikia is not accessible if you've made further modifications. Remove the custom ad blocker rule(s) and the page will load as expected.