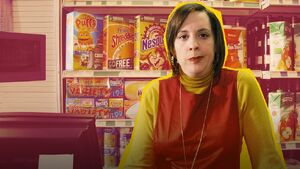 Sorry, I've Got No Head is a CBBC children's sketch comedy. The programme's cast originally consisted of William Andrews, David Armand, James Bachman, Marcus Brigstocke, Anna Crilly, Justin Edwards, Mark Evans, Mel Giedroyc, Marek Larwood and Nick Mohammed. It is written by cast members Evans, Edwards and Armand, as well as Toby Davies and Chris Reddy, amongst others.
Sketches include: A man who obviously has no head; Jasmine and Prudith; Witchfinder General; Fearless Vikings; Ross; Louise; Angry Snowman; Dung Beetles; Backstage Access (taking a behind-the-scenes look at video game characters); Colin and Malcolm, two overweight aeroplane food trolley attendants, who eat the food to "make sure" what it is; The Museum of the Imagination, owned by Mr Elevenses and Mr Faraway who say that they have fantastic exhibits, but only in people's imagination (however, after guests leave, they reveal a real exhibit, like an alien, the ghost of Julius Caesar, or the Holy Grail) and more.
Ad blocker interference detected!
Wikia is a free-to-use site that makes money from advertising. We have a modified experience for viewers using ad blockers

Wikia is not accessible if you've made further modifications. Remove the custom ad blocker rule(s) and the page will load as expected.