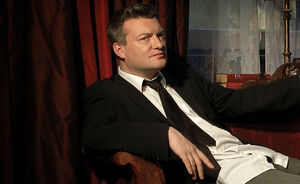 So Wrong It's Right (also known as Charlie Brooker's So Wrong It's Right) was presented by Charlie Brooker.
Charlie Brooker hosts the comedy panel show that celebrates failure. It's a game of competitive ineptitude, the aim of which is to come up with the "most wrong" answer to each question.
What's the worst thing you've ever done at work? What's the world's worst idea for a sci-fi film? What's the biggest balls-up in sporting history? These are the kind of questions facing the panel of comedians taking part in So Wrong It's Right.
Each week, Charlie plunders his guests' pasts, creativity and general knowledge over a series of rounds in which panellists have to be wrong to be right. The aim for Charlie's guests is to come up with the most wrong answer to each question they're asked, with Charlie awarding a point to whoever he decides gave the most inappropriate answer.
Ad blocker interference detected!
Wikia is a free-to-use site that makes money from advertising. We have a modified experience for viewers using ad blockers

Wikia is not accessible if you've made further modifications. Remove the custom ad blocker rule(s) and the page will load as expected.