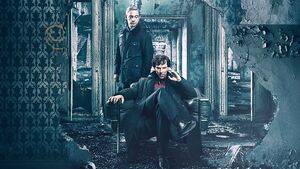 Sherlock is a British television series that creates a contemporary update of Sir Arthur Conan Doyle's Sherlock Holmes detective stories set in the modern day.
The series was produced by Hartswood Films for BBC, co-produced with WGBH Boston for its Masterpiece anthology series. It stars Benedict Cumberbatch as Holmes and Martin Freeman as Dr. Watson. It was created by Steven Moffat and Mark Gatiss, who are also writers for Doctor Who which is where they came up with the idea for the program.
Paul McGuigan directed the first and third episodes; Euros Lyn directed the second, which was written by Steve Thompson
Sherlock Holmes and Dr Watson's adventures in 21st Century London. A thrilling, funny, fast-paced contemporary remake of the Arthur Conan Doyle classic.
Main Cast
Edit
Ad blocker interference detected!
Wikia is a free-to-use site that makes money from advertising. We have a modified experience for viewers using ad blockers

Wikia is not accessible if you've made further modifications. Remove the custom ad blocker rule(s) and the page will load as expected.