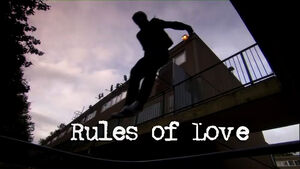 Rules of Love is a 2010 British film starring Jake Roche, Daisy Head, Sydney Rae White, Paterson Joseph, Daniel Anthony, Madeline Duggan, Ryan Hawley and Laura Aikman. It was made for BBC Switch, and broadcast on BBC Two.
A contemporary musical set in London, Rules of Love is a modern love story concentrating the relationship between Matt (Jake Roche) and Daisy (Daisy Head), and their friends Jack (Daniel Anthony) and Jess (Sydney Rae White).
Matt is a lowly postboy at 'Passion', a fashion-based advertising agency, whilst Daisy is a young, ambitious girl on work experience. Matt's attraction to Daisy is obvious, but Daisy is in a relationship and so they need help from their friends to establish the Rules of Love.
Rules of Love was first broadcast on Saturday 18th December 2010, and has not been repeated on television since. It was broadcast as part of BBC Switch's last ever show, and was the first modern British urban musical to be made.
External Links
Edit
Ad blocker interference detected!
Wikia is a free-to-use site that makes money from advertising. We have a modified experience for viewers using ad blockers

Wikia is not accessible if you've made further modifications. Remove the custom ad blocker rule(s) and the page will load as expected.