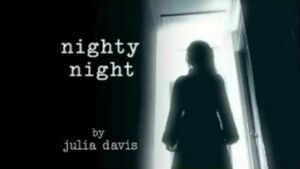 Nighty Night is a BBC dark television sitcom written by and starring Julia Davis. It was first broadcast on 6 January 2004 on BBC Three before moving to BBC2.
Notorious for its dark humour, the show follows narcissistic sociopath Jill Tyrell (Julia Davis) – who manages a beauty parlour alongside her moronic, asthmatic assistant Linda (Ruth Jones) – as she learns that her husband Terry (Kevin Eldon) has cancer. She uses this fact to manipulate new neighbour Cathy Cole (Rebecca Front), a wheelchair user with multiple sclerosis. Her husband is Don Cole (Angus Deayton), a womanising doctor and the man with whom Jill becomes increasingly obsessed.
Ad blocker interference detected!
Wikia is a free-to-use site that makes money from advertising. We have a modified experience for viewers using ad blockers

Wikia is not accessible if you've made further modifications. Remove the custom ad blocker rule(s) and the page will load as expected.