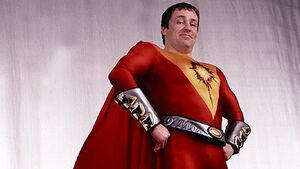 My Hero was a BBC sitcom created by Paul Mendelson. The programme ran for six series, initially airing in February 2000, and concluding in September 2006. The series follows the antics of dim-witted superhero "Thermoman", portrayed by Ardal O'Hanlon in series one through five and James Dreyfus in the final series.
Thermoman is a multiple-powered superhero who originates from the planet Ultron. In an attempt to do his best to fit in with life on earth, he creates the human alias of George Sunday. However, due to his unfamiliarity with human life, his antics usually lead to many misunderstandings.
Although Thermoman is intrinsically very intelligent, his problem understanding earthly customs makes him look like an idiot to people who don't know who he really is. At the start of the first series, he saves wife-to-be Janet Dawkins from danger, and after falling in love, the pair later have two children, Ollie and Cassie, who also possess superpowers.
Other main characters include Piers Crispin, a self obsessed doctor who has a crush on Janet; Mrs. Raven, the doctor's miserable receptionist; Ella and Stanley Dawkins, Janet's over-protective parents; and Arnie, Thermoman's cousin, a one-time superhero who runs a restaurant in Brooklyn, New York.