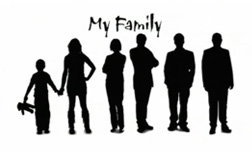 My Family is a British Comedy television programme created by Fred Barron, and was designed to use an American technique with multiple writers. It began it's broadcast on BBC One on 19 September 2000. The show features a dysfunctional family, the Harpers, and the many antics they get up to. The show comes to an end in 2011, following the final ever episode (a Christmas Special).
The main characters Ben (Robert Lindsay), a dentist; Susan (Zoe Wanamaker), a tour guide and later an Art gallery owner; Nick (Kris Marshall), a total layabout; Janey (Daniela Denby-Ashe), a shallow clothes obsessive; And Michael (Gabriel Thomson), who is very intelligent. Other characters such as: Abi (Siobhan Hayes), Ben's cousin and is very dim-witted; Roger (Keiron Self), a fellow dentist and a complete annoyance to Ben; Alfie (Rhodri Meilir), a friend of Nick's who is a struggling musician; Kenzo (Tayler Marshall), Janey's son who often tries to outsmart his family; And Grace (Avril Elgar & Rosemary Leach), Susan's mother who is locked in psychological warfare with her. The show comes to an end in 2011, after 11 years of the Harpers.
Ad blocker interference detected!
Wikia is a free-to-use site that makes money from advertising. We have a modified experience for viewers using ad blockers

Wikia is not accessible if you've made further modifications. Remove the custom ad blocker rule(s) and the page will load as expected.