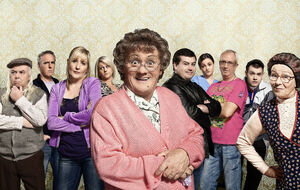 Mrs. Brown's Boys is a British-Irish award winning sitcom created by and starring writer and performer Brendan O'Carroll which is shown on BBC One. The show is based on O'Carroll's stage plays about the character Agnes Browne, which were developed from books and straight-to-DVD films.
The sitcom continues the stories of Agnes, now with the shortened surname "Brown", and her family who are played by real life close friends and family of O'Carroll's. After being slated by critics, the show has become a ratings success in both Ireland, where it is set, and the United Kingdom, where it is recorded.
Critical reception
Edit
Although the show has had high viewership, it has received poor reviews from critics. From the start critics hated it; "The whole thing is entirely predicated on viewers finding a man dressed as a foul-mouthed elderly woman intrinsically funny", noted Bernice Harrison, TV reviewer with The Irish Times. "If you do, you're away in a hack, and the viewing figures are astronomical, but if you don't, and you think that died out with Les Dawson and Dick Emery, then it's a long half-hour." The Irish Independent said that Mrs Brown's Boys was the type of TV programme "that makes you vaguely embarrassed to be Irish".
Ad blocker interference detected!
Wikia is a free-to-use site that makes money from advertising. We have a modified experience for viewers using ad blockers

Wikia is not accessible if you've made further modifications. Remove the custom ad blocker rule(s) and the page will load as expected.