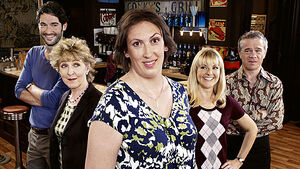 Miranda is a BBC television series co-written by and starring comedienne Miranda Hart, which first aired on BBC Two on 9 November 2009. Described as an "old-fashioned" sitcom, it received positive comments from critics and Hart won the 2009 Royal Television Society award for comedy performance for her role in the first series.
A second series was commissioned and filming started in mid 2010. The series began airing on BBC Two and BBC HD on 15 November 2010. A third series will air on BBC One from December 2012.
Miranda (Miranda Hart) is 6 feet 1 inch (1.85 m) tall and gets called 'Sir' once too often. She has never fit in with her old boarding school friends, Tilly (Sally Phillips) and Fanny (Katy Wix), and finds social situations awkward, especially around men.
She is a constant disappointment to her mother, Penny (Patricia Hodge), who is desperate for her to get a proper job and a husband. Although Miranda owns and lives above her own joke shop, she lacks any real capacity for business, so it is managed by her childhood friend Stevie Sutton. The restaurant next door is run by Clive (James Holmes), who also works as a waiter. He has employed a chef - Gary Preston (Tom Ellis), a university friend whom Miranda fancies. The various episodes revolve around this set-up.
Ad blocker interference detected!
Wikia is a free-to-use site that makes money from advertising. We have a modified experience for viewers using ad blockers

Wikia is not accessible if you've made further modifications. Remove the custom ad blocker rule(s) and the page will load as expected.