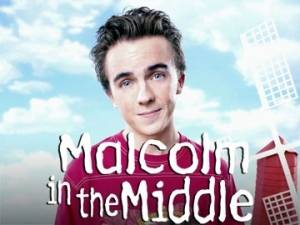 Malcolm in the Middle is an American television sitcom created by Linwood Boomer for the Fox Broadcasting Company.
The series was first broadcast on January 9, 2000; it ended its six year run on May 14, 2006 after seven seasons and 151 episodes.
In the UK, the show was originally aired on Sky1 from September 3, 2000 until December 2010, and was also shown on BBC2 from April 6, 2001 until around 2009. As of January 4, 2010, it is currently being shown on Fiver (now 5*) (at 6:00 pm and again at about 7:30 pm).
Set in a suburban neighbourhood in the fictional Tri-County Area, Malcolm in the Middle is about a boy named Malcolm and his dysfunctional family. The show stars Frankie Muniz as Malcolm, the third of four boys, his brothers and their parents, Lois and Hal. The oldest, Francis, was sent away to military school, leaving at home his three younger brothers, Reese, Malcolm and Dewey, Malcolm being the middle child still at home.
The show's early seasons centred on Malcolm dealing with the rigours of being an adolescent and enduring the eccentricities of his life. Later seasons gradually explored the other members of the family and their friends in more depth, including others such as Craig Feldspar, Stevie Kenarban, and Stevie's dad Abe.
Ad blocker interference detected!
Wikia is a free-to-use site that makes money from advertising. We have a modified experience for viewers using ad blockers

Wikia is not accessible if you've made further modifications. Remove the custom ad blocker rule(s) and the page will load as expected.