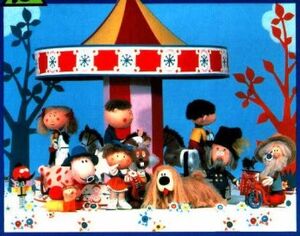 The Magic Roundabout (known in the original French as Le Manège enchanté) was a children's television programme on the BBC created in France in 1963 by Serge Danot.
The BBC produced a version of the series using the original stop motion animation footage with new English-language scripts, written and performed by Eric Thompson, that had no relation to the original storyline. This version, broadcast from 18 October 1965 to 25 January 1977, was a great success and attained cult status, being watched by adults for its dry humour as much as by the children for whom it was intended.
Ad blocker interference detected!
Wikia is a free-to-use site that makes money from advertising. We have a modified experience for viewers using ad blockers

Wikia is not accessible if you've made further modifications. Remove the custom ad blocker rule(s) and the page will load as expected.