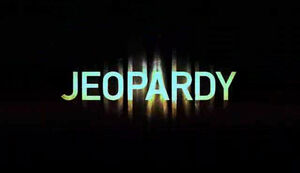 Jeopardy was a BAFTA award-winning Scottish television series which ran for three series, from 2002 to 2004, on BBC One as part of CBBC. The series was produced for CBBC Scotland and filmed on location in both Scotland and Australia. CBBC currently have no plans for it to be re-aired, the last re-run being in 2008. In 2002 the British Academy of Film and Television Arts (BAFTA) awarded the first series Best Children's Drama.
Jeopardy is about a group of eight teenage school kids, Simon, Chrissie, Lucy, Harry, Sarah, David, Shona and Leon, from Falkirk, Scotland, and their teacher, Gerry Simmons, who go to Australia in search of aliens and UFOs. The school Ufology club has organised a trip to the outback to search for extraterrestrial activity in Australia. But things take a turn for the worse.....
Ad blocker interference detected!
Wikia is a free-to-use site that makes money from advertising. We have a modified experience for viewers using ad blockers

Wikia is not accessible if you've made further modifications. Remove the custom ad blocker rule(s) and the page will load as expected.