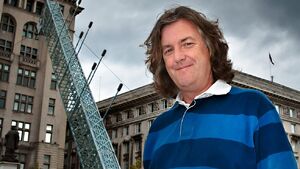 James May's Toy Stories is a television series presented by James May.The series was commissioned for BBC Two from Plum Pictures.
May's interest in technology is known from his presentation of such programmes as James May's 20th Century and James May's Big Ideas. He credits much of the inventiveness of humans to the love of playing with toys and he has credited many technological developments to men playing in sheds.
He has shown his passion for toys in programmes he has presented including James May's Top Toys and James May: My Sisters' Top Toys and he has discussed his desire for children to get away from games consoles and play with real toys preferably with their parents.
Ad blocker interference detected!
Wikia is a free-to-use site that makes money from advertising. We have a modified experience for viewers using ad blockers

Wikia is not accessible if you've made further modifications. Remove the custom ad blocker rule(s) and the page will load as expected.