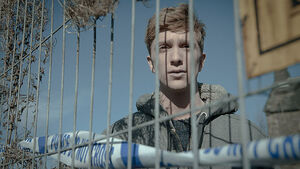 In The Flesh is a British supernatural drama television series which is broadcast on BBC Three and BBC America. Season One aired in March 2013, and Season Two is set to air on 10 May 2014. It was created and written by Dominic Mitchell, directed by Jonny Campbell and produced by Ann Harrison-Baxter. It is set four years after the zombie apocalypse, also known as 'The Pale Wars', and focuses on zombie teenager Kieren Walker as he and others like him reintegrate back into the local community of Roarton, Lancashire.
Ad blocker interference detected!
Wikia is a free-to-use site that makes money from advertising. We have a modified experience for viewers using ad blockers

Wikia is not accessible if you've made further modifications. Remove the custom ad blocker rule(s) and the page will load as expected.