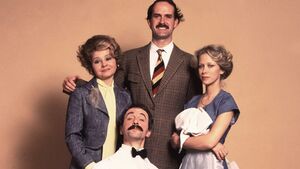 Fawlty Towers is a British sitcom produced by BBC Television and first broadcast on BBC 2 in 1975. Twelve television program episodes were produced (two series each of six episodes).
The show was written by John Cleese and his then wife Connie Booth, both of whom played major characters. The first series in 1975 was produced and directed by John Howard Davies; the second in 1979 was produced by Douglas Argent and directed by Bob Spiers.
Ad blocker interference detected!
Wikia is a free-to-use site that makes money from advertising. We have a modified experience for viewers using ad blockers

Wikia is not accessible if you've made further modifications. Remove the custom ad blocker rule(s) and the page will load as expected.