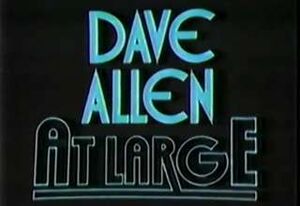 Dave Allen at Large was fast show on BBC Two with the title Show of the Week presents Dave Allen at Large before moving to BBC One as Dave Allen at Large it featured Irish sit-down comedian Dave Allen monologuing about an array of topics, infused with filmed and videotaped sketches starring Allen himself. Produced by and airing on the BBC, Dave Allen at Large was a hodge podge of ideas and curiosities concerning all areas of society.
"
Good night, and may your God go with you.
"

– Dave Allen
Ad blocker interference detected!
Wikia is a free-to-use site that makes money from advertising. We have a modified experience for viewers using ad blockers

Wikia is not accessible if you've made further modifications. Remove the custom ad blocker rule(s) and the page will load as expected.