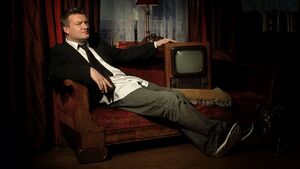 Charlie Brooker's Screenwipe is a British television review programme broadcast on BBC Four by Charlie Brooker. The programme contains reviews of current shows, as well as stories and commentary on how television is produced.
Screenwipe is a television programme, presented by comedian Charlie Brooker, which reviews other British television programmes with a caustic and humorous tone. Brooker analyses specific programmes and genres, regularly making jokes about how programmes are created, and criticising what he states is the bureaucracy behind programme-making.
Brooker often pays particular attention to more obscure channels on satellite, Freeview and cable, such as those dedicated to gambling, shopping, horoscopes and pornography. He explores the probable effects of television on society and how programmes can often create in the viewer feelings of inadequacy, depression, fear and anxiety. To balance things, one segment of each show is usually dedicated to positive reviews, with analysis on why the style and content are so absorbing.
Ad blocker interference detected!
Wikia is a free-to-use site that makes money from advertising. We have a modified experience for viewers using ad blockers

Wikia is not accessible if you've made further modifications. Remove the custom ad blocker rule(s) and the page will load as expected.