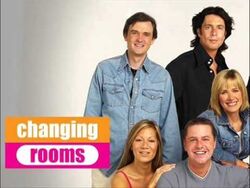 Changing Rooms was a do-it-yourself home improvement show broadcast in the United Kingdom on the BBC (starting on BBC Two and then moving to BBC One) between 1996 and 2004.
The show was one of a number of home improvement and lifestyle shows popular in the late 1990s and early 2000s. The show was later franchised, generally under the same name, for the local TV markets in the United States, New Zealand and Australia.
In July 2000 BBC Multimedia released a Changing Rooms CD Rom
The premise
Edit
The premise of the show was for couples to swap houses with friends or neighbours with each pair decorating one room in each other's homes. This leads up to a finale with both couples seeing their rooms, and meeting up again – almost invariably on still friendly terms.
With the show including some top designers,[citation needed] their ideas could be a little over the top, which led to a few tears and tantrums. Changing Rooms was originally hosted by Carol Smillie, and assisting with the remodelling was a Cockney carpenter, "Handy" Andy Kane.
Ad blocker interference detected!
Wikia is a free-to-use site that makes money from advertising. We have a modified experience for viewers using ad blockers

Wikia is not accessible if you've made further modifications. Remove the custom ad blocker rule(s) and the page will load as expected.