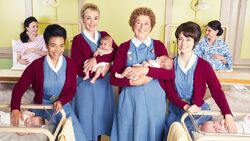 Call the Midwife is a BBC period drama series about a group of nurse midwives working in the East End of London in the late 1950s and early 1960s.
It stars Jessica Raine, Miranda Hart, Helen George, Bryony Hannah, Laura Main, Jenny Agutter, Pam Ferris, Judy Parfitt, Cliff Parisi, Stephen McGann, Ben Caplan, Emerald Fennell, Victoria Yeates, Linda Bassett and Charlotte Ritchie.
The series is produced by Neal Street Productions, a production company founded and owned by the film director and producer Sam Mendes, Call the Midwife executive producer Pippa Harris, and Caro Newling. The first series, set in 1957, premiered in the UK on 15 January 2012 on BBC One.
Newly qualified midwife Jenny Lee and the midwives and nuns of Nonnatus House cope with the medical problems in the deprived Poplar district of East London in the 1950s. The sisters and midwives carry out many nursing duties across the community.
However, with between 80 and 100 babies being born each month in Poplar alone, the primary work is to help bring safe childbirth to women in the area and to look after their countless newborns.
Ad blocker interference detected!
Wikia is a free-to-use site that makes money from advertising. We have a modified experience for viewers using ad blockers

Wikia is not accessible if you've made further modifications. Remove the custom ad blocker rule(s) and the page will load as expected.