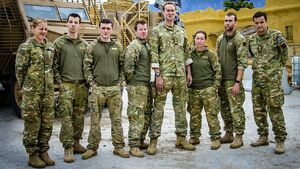 Bluestone 42 is an eight-part BBC Three comedy drama filmed in South Africa about a British bomb disposal detachment in Afghanistan during Operation Herrick. It is a series about a bunch of soldiers who love being soldiers, and the camaraderie, bonds and banter they share, even though they are risking their lives defusing hidden bombs. The name of the drama refers to the unit callsign.
Ad blocker interference detected!
Wikia is a free-to-use site that makes money from advertising. We have a modified experience for viewers using ad blockers

Wikia is not accessible if you've made further modifications. Remove the custom ad blocker rule(s) and the page will load as expected.