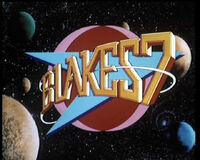 Blake's 7 is a British science fiction television series produced by the BBC for its BBC1 channel. Created by Terry Nation, a prolific television writer best known for creating the popular Dalek monsters for the television series Doctor Who, it ran for four series between 1978 and 1981.
Popular from the time it was first broadcast, it remains well regarded[1] on account of its dystopian tone, moral ambiguity and strong characterisation. It is also remembered for its dramatic ending.
Ad blocker interference detected!
Wikia is a free-to-use site that makes money from advertising. We have a modified experience for viewers using ad blockers

Wikia is not accessible if you've made further modifications. Remove the custom ad blocker rule(s) and the page will load as expected.