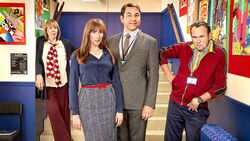 Big School is a British sitcom, starring David Walliams, Catherine Tate, Steve Speirs, Frances de la Tour and Philip Glenister. It was broadcast on BBC One.
It is set in a secondary school and follows the comedic relationships of the teachers. The first series began airing on BBC One on 16 August 2013,[2] and was met with polarised reviews. The final episode of the first series aired on 20 September 2013. On 2 December 2013, BBC One controller Charlotte Moore announced that Big School had been renewed for a second series, which concluded on 10th October 2014.
The series follows Keith Church (David Walliams), a socially naive chemistry teacher at the fictional Greybridge Secondary School, near Watford, North London, who falls for new French teacher Sarah Postern (Catherine Tate), who believes herself to be an inspirational teacher, in tune with youth culture and a beautiful woman. However she is also getting attention from arrogant and rude sports teacher Trevor Gunn (Philip Glenister).
Other staff members include Ms Baron (Frances de la Tour) as the alcoholic 'no nonsense' headteacher, Mr Martin (Daniel Rigby), a music teacher with ambitions to be a singer-songwriter, Mr Barber (Steve Speirs), a geography teacher who is having a nervous breakdown and is employed as a caretaker in the second series and Mr Hubble (James Greene), the elderly and confused head of science. The pupils at the school are portrayed as being mainly interested in social networking, texting and partying and as being bored by the attempts of Mr Church and Miss Postern to engage with them. The most prominent of them in the first series is a streetwise pupil called Manyou, played by Joivan Wade, who is asked for advice on how to succeed with women by Mr Church.
Ad blocker interference detected!
Wikia is a free-to-use site that makes money from advertising. We have a modified experience for viewers using ad blockers

Wikia is not accessible if you've made further modifications. Remove the custom ad blocker rule(s) and the page will load as expected.