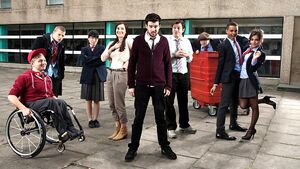 Bad Education is a British sitcom produced by Tiger Aspect Productions for BBC Three. It stars Jack Whitehall as young teacher Alfie Wickers – "the worst teacher ever to grace the British education system" – at the fictional Abbey Grove School, in Watford Hertfordshire.[1] Mathew Horne plays Fraser, the headmaster of the fictional school alongside him.
At the time of the series launch it broke BBC Three's record for the highest-rated first episode of a comedy, which was previously held by Horne & Corden, but is now held by Cuckoo.
1st Season: 5th September 2012
2nd Season: 3rd February 2013
3rd Season: 21st June 2013
The second series premiered on the BBC iPlayer on 27 August 2013, a week before the television air date of 5 September, [4] as part of BBC Three's plans to premiere all its scripted comedy programmes on-line.