BBC One and Two has septate nations and regions. Here are the local news teams.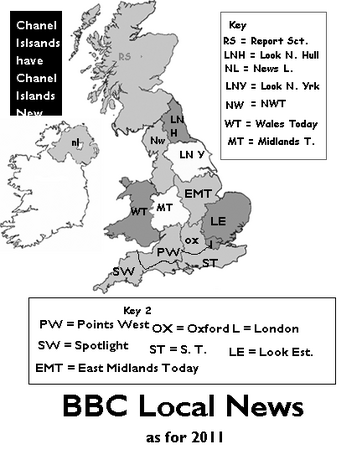 BBC News Local News
BBC London (L)
BBC South East Today (Not Shown on map)
BBC Newsroom south east (REPLACED)
BBC Look East (LE)
BBC Oxford (OX)
BBC Points West (PW)
BBC Spotlight (SW)
BBC Look North Yorkshire (LN Y)
BBC Look North Hull (LNH)
BBC Look North Yorkshire and Lincolnshire (Not shown in the map)
BBC Midlands Today (MT)
Reporting Scotland (RS)
BBC South Today (ST)
BBC Channel Islands News (Black Box)
BBC Two Countries
BBC Two England
BBC Two Scotland
BBC Two Wales
BBC Two NI (Northern Ireland in 2007- Present)
Sky Numbers
Sky has different Channel Numbers.To View them..
Go to TV Guide
Chose entertainment bar
Scroll Down way down and now you in BBC Two NI!
Scroll Up to view more BBC One\Two regions
Ireland Sky scan channels. That Mefored don't work
BBC An La\Newwydion and Newsnight Scotland
BBC has BBC Scotland for Garlic Aduance, Newwydion for Welsh News. Aslo Newsnight has Scotland News while England, Wales and NI have regular Newsnight