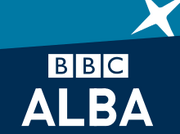 BBC Alba is a Scottish Gaelic language digital television channel jointly owned by the BBC and MG Alba. The channel was launched on 19 September 2008 and is on-air for up to seven hours a day. The name Alba is the Scottish Gaelic name for Scotland. The station is unique in that it is the first channel to be delivered under a BBC licence by a partnership and is also the first multi-genre channel to come entirely from Scotland with almost all of its programmes made in Scotland.
Programmes
Edit
Seo Alba (This Is Alba)
Leum Is Danns
Abadas
Na Bleigeardan
Calum Clachair: Gleann na Greine (Bob The Builder: Project Fix It)
Leabhar na Dluth- Choille (Jungle Book)
Sgaoileadh Nan Sgeul
Padraig Post SDS (Postman Pat)
Charlie Is Lola (Charlie & Lola)
Oran Bho Na Daoine Beaga
Blarag a' Bho
Am Prionnsa Beag (The Little Prince)
The Loch
Speaking Our Language
An La
Do Bheatha Don Duthaich
Sgoil nan Cuileanan (Puppy School)
Trusadh
Cuide ri Cathy
Air an Rathad
Fraochy Bay
Sorchar nan Reul
Saidheans Sporsail
Leum Suas air an Sguaib (Room On The Broom)
Sruth gu Sal
An Ribheid Chiuil (Reed Music)
Suil Air
Cuirm @ Celtic
Machair
Togaidh Sinn Fonn
Peppa Pig
Bigeil
Tomas is a Threud (Thomas & Friends)
Na Bonnachain
Lucas am Bata-teasairginn (Lifeboat Luke)
Breab
Anns a' Gharradh (In The Garden)
Soillse
Iomraiteach
Tir nan Og
Da-Fhillte
Luthaidh
Bruno
Glasgow City FC
Ceol Country
Rapal
Fuine (Home Baking)
Gun Dachaigh (Homeless)
Oran le Fiona
Scottish Premier League
Horo Gheallaidh
Live Football
Siubhlachan (Time Traveller)
Seachd La
All programmes italicized are the news programmes of BBC Alba
Ad blocker interference detected!
Wikia is a free-to-use site that makes money from advertising. We have a modified experience for viewers using ad blockers

Wikia is not accessible if you've made further modifications. Remove the custom ad blocker rule(s) and the page will load as expected.